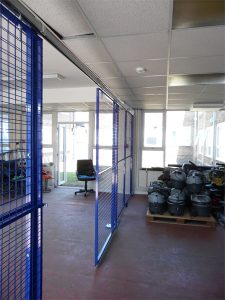 Our Wire Mesh Partitions are manufactured and designed by us to provide secure storage to suit your requirements and specification.
Wire mesh partitions offer secure storage, giving you peace of mind that your items are in a secure place. The open mesh design provides clear visibility, allowing you to see what is in the area, which is essential in security sensitive environments.
Wire mesh partitions are used across many sectors including, construction, education, sports and leisure and air handling…just to name a few.
Mesh Partitions are typically used for:-
Basement storage
Security sensitive environments
Machine guarding for robotic arms
Securing servers and computer software in data centres
Sectioning off areas in factories and warehouses
Racking safety
Wire Mesh Partitions Design & Manufacture
Our wire mesh partitions are designed and manufactured by us at our factory just outside Manchester. By ordering from us, not only will you get fantastic service, but our guarantee that the wire mesh partitions are manufactured here in the UK by our expert manufacturing team.   

Wire Mesh Partition Panels and Posts
Panels for our wire mesh partitions are stocked at 2440mm high x 1220mm wide and manufactured from 50mm x 50mm wire mesh which is welded onto a 30mm x 20mm Tube frame. The posts are 2500mm high and manufactured from 50mm x 50mm x 1.5mm tube.
Post are fitted with fully welded base plates with pre-drilled holes, so you can secure to a solid surface. Panels and posts are finished in a durable Black powder coating and are available from stock.

Wire Mesh Partition Doors
Partition doors can be supplied as a single or double door. Partition doors are manufactured from 50mm x 50mm wire mesh which is welded to a 30mm x 30mm tube frame and black powder coated. The partition doors, whether is be single or double, can be supplied with a cylinder lock and handle or a slide bolt for use with your own padlocks. Double doors have a drop bolt fitted to secure the door when not in use.

Request a Free Quotation

Our Wire Mesh Partitions are available to suit your needs. Simply email us your requirements and we will do the rest or call us on 0161 620 7250.